Five Dollar Pizza Place
Pizza
10"
Personal
12"
Medium
14"
Large
16"
Extra Large
Choice of Red or White Sauce (Alfredo Sauce)
2 Topping Personal Pizza

$6.15
Traditional Toppings
$1.56
Specialty Toppings
$1.56
1 Topping Medium Pizza

$6.87
Traditional Toppings
$1.56
Specialty Toppings
$1.82
Large Cheese Pizza

$7.25
Traditional Toppings
$2.25
Specialty Toppings
$2.60
Extra Large Cheese Pizza

$9.98
Traditional Toppings
$2.75
Specialty Toppings
$3.12
1 Topping Calzone

$8.99
Add Toppings
$1.56
Dairy Free Cheese

$6.00
Gluten Free Crust

$7.00
Cheese Bread
12" Thick Pizza Dough, Butter, Seasonings & Tons of Cheese

$9.50
Toppings
$1.56 - $1.82/each
Jalapeno Cheese Bread
12" Thick Pizza Dough, Butter, Seasonings & Tons of Cheese

$9.57
Toppings
$1.56 - $1.82/each
Garlic Bread Sticks
Great addition to any of our pasta dishes!

$5.00
Kiddo Pizza
10" Pizza with 1 topping

$5.00
Ultimate Supreme
Pepperoni, Ham, Smoked Bacon, Sausage, Onions, Mushrooms, Bell Peppers, Olives and Extra Cheese Med:$16.99
Large:$18.99
XL:$21.99
Toppings
Pepperoni
Italian Sausage
Smoked Bacon
Canadian Bacon
Pineapple
Jalapenos
Mushrooms
Black Olives
Onions
Bell Pepper
Meatball
Tomatoes
Artichoke Hearts
Spinach
Fresh Basil
Fresh Garlic
Crumbled Bleu Cheese
Ricotta Cheese
Feta Cheese
Broccoli
Banana Peppers
Green olives
Extra Cheese
Premium Toppings
Baked Chicken Breast
BBQ Chicken
Buffalo Chicken
Cajun Chicken
Teriyaki Chicken
Anchovies
Bay Shrimp
Sauces
Marinara
Alfredo
Olive Oil
Butter
BBQ Sauce
Signature Pizzas
Medium

$14.49
Large

$16.99
Extra Large

$18.99
Meat Eaters Pepperoni, ham, smoked bacon and sausage.
Veggie Eaters Mushrooms, black olives, bell peppers, onions.
Shrimp Eaters Bay shrimp, fresh garlic, tomatoes, ricotta cheese and Italian spices.
BBQ Chicken BBQ Sauce, chicken, cilantro, red onions, smoked bacon and cheddar cheese.
Bruschetta Olive oil, tomato, fresh basil, fresh garlic, red onion and Italian spices.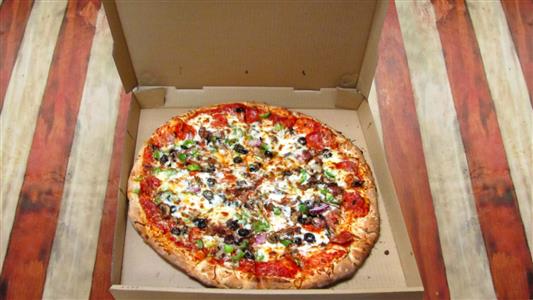 Five Cheeses

Mozzarella, ricotta, feta, cheddar and parmesan.

Nacho Cheese Pizza Nacho cheese sauce, mozzarella, cheddar and lots of jalapenos.

Condor Pizza Pepperoni, spicy sausage, smoked bacon, bell peppers and cheddar cheese.

Chicken Alfredo Pizza White Alfredo sauce, baked chicken breast, smoked bacon and green onions.
Wings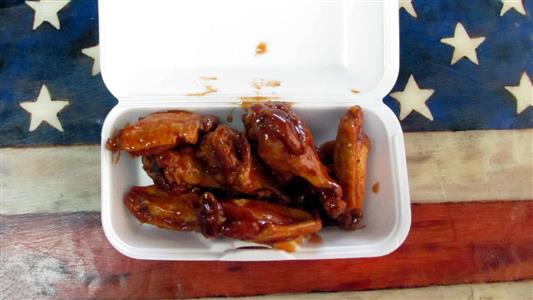 8 Wings

$10.50
12 Wings

$13.95
20 Wings

$21.80
40 Wings

$41.50
80 Wings

$65.81
5 piece chicken tenders

$6.75
Wing Flavors
Mild Buffalo
Spicy Buffalo
Honey BBQ
Cajun
Suicide
Naked
Lemon Pepper
Garlic Parmesan
Teriyaki
Chipotle
Hawaiian
Pasta
Individual

$9.50
Family Size

$16.99
Baked Pasta
Marinara sauce, italian sausage, covered in cheese and baked.
Chicken Alfredo
Alfredo sauce tossed in pasta, topped with grilled chicken breast and Parmesan cheese.
Chicken Marinara
Marinara sauce tossed in pasta, topped with grilled chicken breast and Parmesan cheese.
Pasta Primavera
A mix of fresh sauteed vegetables tossed with pasta and served with choice of Marinara or Alfredo sauce.
Bruschetta Pasta
Fresh garlic and basil, tomato, red onion, Italian spices and Parmesan cheese sauteed in olive oil and tossed with pasta.
Pasta Marinara and Meatballs
Marinara sauce with house made meatballs tossed with pasta.
Shrimp Diablo
Lots of shrimp sauteed in a spicy creamy marinara sauce tossed with pasta. Individual:$7.49
Family: $14.99
Salads
Garden Salad

$8.99
Caesar Salad

$8.99
Small Garden

$7.50
Small Caesar

$7.50
Premium Salads
Antipasto

$10.00
Chef Salad

$10.00
Cobb Salad

$10.00
Crispy Chicken Salad

$10.00
Southwest Chicken Salad

$10.00
Small Size Premium Salad

$7.50
Dessert
Cinnamon Pull-Aparts

$8.50
Desert Cups
Chocolate Mousse

$5.00
Tiramisu

$5.00
Limoncello

$5.00
Tres Leches

$5.00
Family Combo's
Family Feast #1
1 large two topping pizza, 1 order of wings & family size salad.

$27.50
Family Feast #2
2 Large two topping pizzas, 1 order of wings & family size salad.

$34.50
Family Feast #3
Family size pasta, family size salad & garlic or cheese bread.

$26.50
Family Feast #4
Family size pasta, wings, family size salad & garlic or cheese bread.

$31.02
Pizza & Wings Combo
1 large two topping pizza & 1 dozen wings.

$24.99
Pizza & Pasta Combo
1 large one topping pizza, family size pasta & garlic bread sticks.

$28.99
Sandwiches
Meatball
BBQ Chicken
Italian
Ham & Cheese
Veggie
Suicide Chicken
Buffalo Chicken
Chicken Bacon Ranch
Club Sandwich
$5.00
Make it a Combo
Sammie and small salad

$6.49